Apple unveiled its new version of its much anticipated iPhone, NOT the iPhone 5 but the iPhone 4S today. And another keynote surprise – Tim Cook wasn't the one to introduce the iPhone 4S! The new device looks and feels the same as iPhone 4, but its innards have received several upgrades. Its whats on the inside that counts, innit?
Here are iPhone 4S's salient features
Apple's Dual-Core A5 Processor
Dual-core graphics, upto 7x faster than its predecessor, iPhone 4
Battery life gives you: 8 hours of talk time, 14 hours on 2G, 6 hours 3G browsing, 9 hours on WiFi, 10 hours of video playback and 40 hours of music
Intelligent antenna switching for enhanced reception
HSDPA data, upto 14 mbps download speeds. Iphone 4 is at 7.2
World phone that packs in both CDMA and GSM in 1 device
8 megapixel camera; Photo resolution: 3264 x 2448
1080p video recording with real-time noise reduction
Screen mirroring, similar to the iPad
Siri intelligent voice assistance (The best feature of iPhone 4S, hands down). The 'humble personal assistant', recognizes speech and performs tasks. You can ask Siri questions like "Will it rain in Cupertino?", or "Can you find me a Greek Restaurant in Palo Alto?", or "What's the time in Paris?" and it finds the answers for you and responds in a giffy. Siri also has her own voice!
Available in black or white
Price Points – 16GB for $199, 32GB for $299, or 64GB for $399. This is the first time Apple has offered a 64GB iPhone.
Available in the US on 14th October followed by roll outs in other countries till the year end.  Pre-orders in U.S begins 7th October.
U.S Carriers – AT&T, Verizon, and new entrant Sprint
The iOS 5 would be available to everyone with iPhone 3GS and upwards, iPads 1&2, and iPod Touch (3rd and 4th Gen), on October the 12th.
Here is Apple's iPhone 4S Video
Check out the infographic below that highlights the key differences between iPhone 4 & iPhone 4S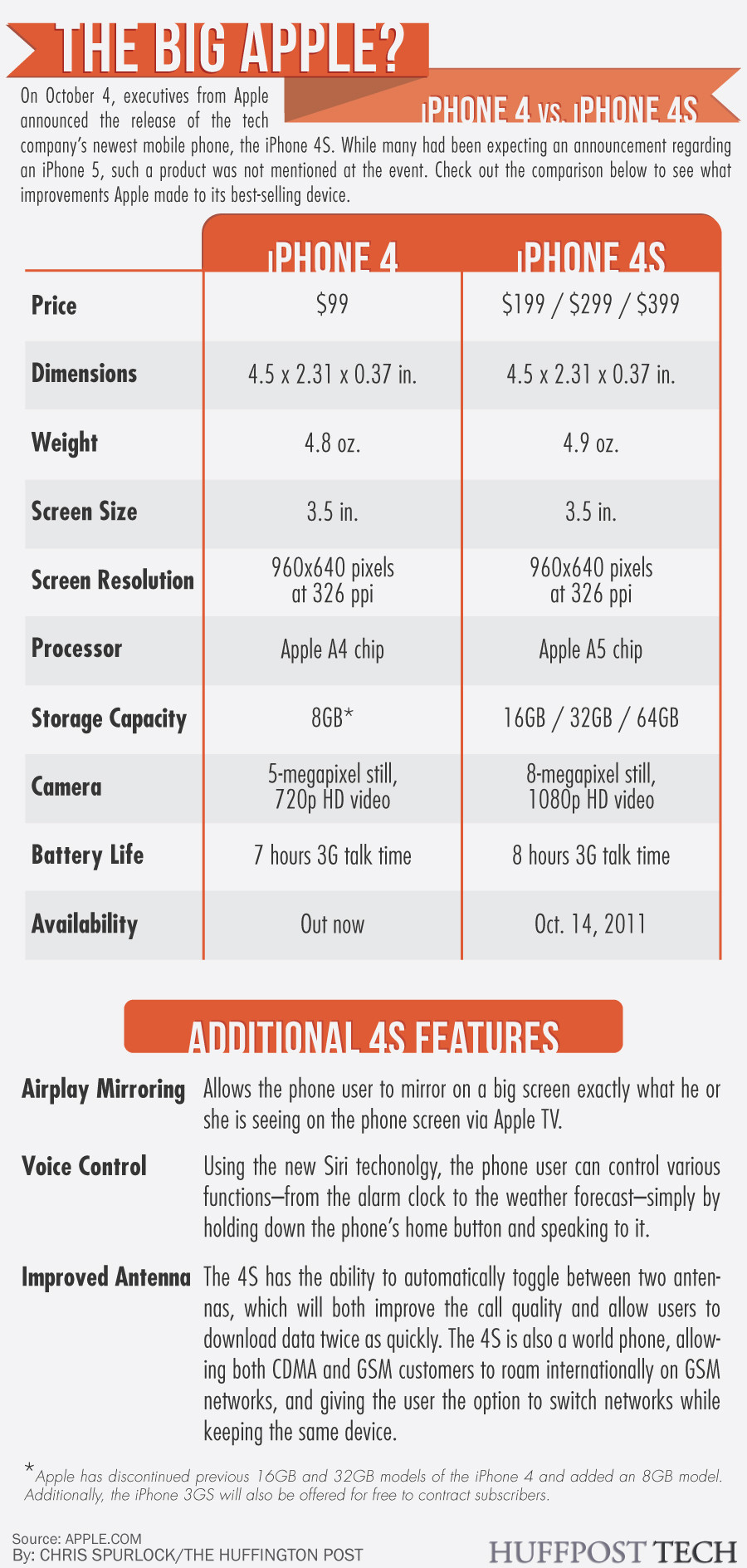 Image Credit: TechCrunch + Engadget
Infographic Credit: HuffPost Tech