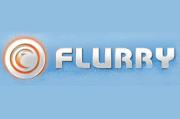 Mobile app analytics firm, Flurry , finds that daily interactive consumption skews apps compared to web for the first time. App consumption beat out both mobile and desktop web consumption, in terms of average time spent on each of these mediums. Games and Social networking emerged as the top categories of time spent over mobile apps by users in the U.S.
Flurry conducted this study by 'aggregating 500M anonymous use sessions per day across more than 85,000 applications'. For native mobile apps, Flurry tracked a multitude of platforms including OS, Android, BlackBerry, Windows Phone and J2ME.
Furry finds that the average user now spends 9% more time on mobile apps than the Internet. Last year this time, consumption skewed web with users spending an average of 64 minutes daily compared to 43 minutes on apps. Towards the beginning of this year, app usage and web usage were almost evenly split, with both showing a surge in consumption. In June, 2011, app usage for the first time overtook web usage clocking 84 minutes/day versus 74 minutes/day on the internet.
So, what are users spending time on apps? Flurry finds that games and social networking are where users are spending most time on apps. News, entertainment and other apps make up the remaining part of the pie.
Flurry states that the surge in mobile app usage is because users are clocking in more sessions as opposed to spending more time per session length. They fire up apps such as Twitter, FB, Foursquare repeatedly during the course of the day. Therefore the cumulative checking into such apps denotes a higher time spent on apps.
Flurry concludes by elucidating on why Facebook's Project Spartan makes sense
"As a category, social networking – which is Facebook's core competency – commands the second largest allocation of consumers' time. Games, which typify the most popular kind of app played on the Facebook platform itself, are also the top categories on both Android and iOS platforms.
As interactive media usage continues to shift from the web to mobile apps, one thing is certain: Facebook, Apple and Google will all expend significant resources to ensure that no one company dominates owning the direct relationship with the consumer."
All Content Credit: Flurry